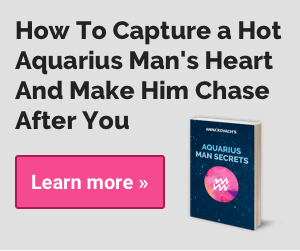 Looking for an independent, smart, and charming woman? She is actually an Aquarius woman. Proudly, any woman born in an extended period between January 20 and February 18 will come under the most creative sign of the Zodiac – Aquarius.
On the exterior, almost men find it quite difficult to stir her mind because of her detached and distant look. Even though you are the most handsome man in the world, but if you are unable to give all her needs, she never keeps her eyes on you. It is said that communication is the key to stimulate an Aquarian's mind, engage in a friendship, and then move forward.
An Overview Of Aquarius Woman Personality
In the bright side, the so-called Aquarius women are the ultimately independent, intelligent and creative characters. Unlike any other kind of women, they are not likely to clingy or jealous in most cases. Never demanding and overly emotional, an Aquarius woman provides her life mate with the durable, faithful, and balanced relationship as long as he respects her privacy and space, following Aquarius Woman Characteristics.
To communicate with the intellectual women, men of any other sign are required to do numerous "mental tests" and "brain activities". It will take much time to approach and form an intimate relationship with an Aquarian. Thus, the compatible communication is the foremost criterion that the Water Bearer is fond of.
Having variety in the conversation and behavior associated with tons of amusing activities, the Aquarius female is able to make the compelling plans for her love interest as well as social connection. In the circle of friends, they may take responsibility for thinking of the "crazy" and flexible ideas.
In the "dark" side, a vast majority of Aquarians are born with the stubbornness, short span of attention, and detached appearance. Hence, they can't stand sitting under others' criticism or complaints for a period. They detest the naggers and complainers. Because an Aquarius woman is not good at showing her emotions, she is likely to run far away from such the "dangerous" characters.
Furthermore, she highly appreciates the mutual respect and never forces anyone to follow her standpoints. In return, she will turn to behave stubbornly in case of being treated disrespectfully or unequally. The forced performance somehow lets the others know her opposition obviously.
How Can You Know Whether Your Aquarius Woman Loves You Or Not?
At the dawn of the relationship, her aloof appearance causes many men to run away. Besides, with the short span of attention, an Aquarius woman is best suited for any man who is on the quest for the challenging and adventurous love. Her love journey will never lack excitement!
If you now uncontrollably fall in love with this independent woman, be tolerated and calm since the relationship will certainly progress slowly. The reason is that she tends to run from the emotional experience as well as romantic attachment.
Thus, how can you know whether Aquarius woman loves you or not? Feel it via her behavior! Always remember that almost all Aquarians will never spend their time on the unimportant figures, never share their personal affairs with the incompatible ones, and never have a positive conversation with the ones they feel uncomfortable. Therefore, it is a big "honor" when she agrees to get along well with you.
The Aquarius woman in love prefers to be a close friend rather than a romantic partner in the life-long relationship. To make this loyal and kindhearted woman your life mate, treat her with respect, and gentleness! Fill her life with fun, pleasure, and excitement, she will provide you with the faithful love and thoughtful care in return!
For more relevant features pertaining to the article "Aquarius Woman Personality – Know To Win Her Heart", please take at ease to get your inquiries submitted in the box below.
---
Terms:
how to tell if an aquarius woman likes you
how to win an aquarius woman
how to get an aquarius woman to fall in love with you
how to win the heart of an aquarius woman