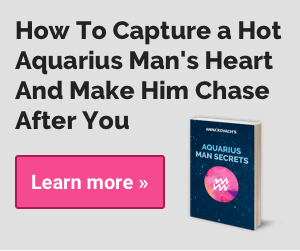 If you were born between January 21 and February 20, you're under the controlled of the Water Bearer – this symbol is often considered to be the revolutionary of the Zodiac. Do you know what "Personality Traits of an Aquarius" are? The sign here is known for its fabulous creativity, intelligence, and passion…so are most Aquarians. Today, in this topic, we will discuss about Aquarius's characteristics to let you know how cool your sun sign is. Take a peek at the in-depth guide below to have more reasons in love with your constellation even more.
Aquarius is the sign of the future, and the Water Bearer (or the Water Pitcher) is the ideal reflection of a new life as well as future promises. Since this astrology sign is truly multifaceted, its energy are normally revealed in different ways. For those who don't know, the 'Water' in Aquarius represents for wisdom, advice, knowledge, and willingness.
A truly Aquarian means you have no problem in speaking your mind, but it's NOT a bad thing. You're well-known for bursting with unusual and creative ideas, and there's no problem for you to think outside the box as well. Of course, following the crowd is what you hate most – never expect an Aquarius to step on the same path as others. And according to Aquarius Traits and Characteristics, people born under this sign takes their pride in their intellectual independence. They can be liberal and progressive in thought, yet still fixed in their opinion; however, when it comes to judgment, they definitely don't let emotions get in their way.
As a fixed Air sign (alongside with Gemini and Libra), most Aquarians are good communicators, maybe the universality of their sign makes them public people. They are often associated with social organizations, forums, and clubs, as well as enjoy intellectual conversations. Being surrounded by many companies is one of their etiquettes; in reality, Aquarians rarely have close friends or acquaintances.
This sign never finds itself at a loss for companionship, but since it values the independence more, so…You may recognize that Aquarius don't let a lot of people get really close because they are afraid of long-term commitments. And, whether it is friendship or romantic relationship, remember that they choose the right companion wisely. Impressing an Aquarian is not easy, but if you succeed, you'll have a loyal, rational, and fully-committed partner to cherish.
Among 12 sun signs in the Zodiac cycle, which ones will form perfect matches with the Water Bearer? You may want to see Aquarius Compatibility Chart!
Since we mentioned above, you were ruled by a knowledgeable sign, so it's obviously you are creative and imaginative. But, rather than putting the ideas into practice and motion (others will do this stage), they're good at thinking them up. Those born under the Aquarius are true visionaries and leaders. In both personal and professional life, they are always looking for something new to help them avoid their greatest enemies of all times – the boredom.
So, what are "Personality Traits of an Aquarius?" The combination of independence, intelligence, creativity, friendliness, justice, and altruism may describe this sign completely. Sometimes, an Aquarian can be stubborn in their opinions and impatient with people disagreeing with their viewpoints.
---