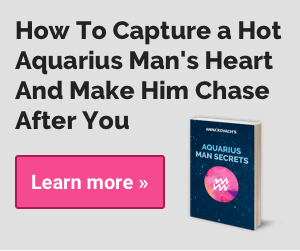 Are you dating with an Aquarius man? Want to know the Aquarius man nature? Try to consult some interesting information and then see which his characteristics attract you. According to the Zodiac sign, the Aquarius man belongs to the eleventh sign. Generally speaking, these people who were born under this sign are described as unusual, inquisitive and aloof men.

You will recognize the Aquarius male thanks to his nimble body together with his attractive and romantic eyes. For this reason, he might stand out in the crowd easily and receive lots of attentions.
He has a clear and firm attitude when making decision anything.
The Aquarius man is tactful, compassionate, kind and sometimes shy and nervous. However, he's easy to get funny moments again and has a bit of conceitedness and independence.
Especially, those men don't like old traditions or customs of the world. They have a tendency to wipe these things out of their life and love absorbing new things from the future. And that's the chief reason why they hates following rules and crave to discover following to their own way. Moreover, they exceedingly dislike duping, borrowing, lending and lying.
Living with the Aquarius man, you will wallow in his surprised actions as well as innovation. Greatly, you aren't bored because of his humorous stories.
It can be said that the Aquarius male extremely loves working in group, and importantly, he loves becoming the centre of attention.
One outstanding feature of these men is their curiosity. They love detecting mysterious things that might stimulate his inquisitiveness.
However, don't be anxious of his curiosity because he's a thick-and-thin friend, partner or colleague.
Any girl who owns a great skill at doing mental and physical things will easily allure the Aquarius man. Besides, she also shows up her confidence of taking control of her life.
If you want to have a date with these men, keep in mind that you never put a fake mask on your face because they are able to use their keen eyes in order to see through your mind.
Beautiful and intelligent, any female possesses both of the features will easily take the Aquarius male's heart. Besides, remember that he love to be intrigued too much.
These men love charming and gentle gestures. Therefore, if you want to date with them, you should express your politeness to allure them. Furthermore, try to create some ideal chances so that they can avail their curiosity to explore you. Attract him by your friendly and lovely smile and never illustrate your jealousy.
Aquarius Man Characteristics
", please contact us through the box here. We're always here to serve you.
---
Terms:
aquarius man characteristics
aquarius male traits