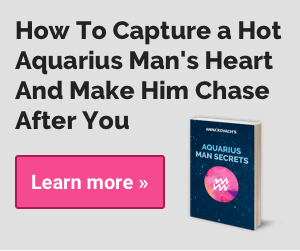 Astrology Scopes: Aquarius Man's Love
All romantic and relationship stuff about a man who was born under the Aquarius sign can be summed up in one single word: intellectuality. Just like any other Air sign, Aquarius is always known as the most logical, progressive, and advancing star sign in astrological system. There's no such thing that Aquarius has the possibility of lacking the intellectual stimulation or communicative skills in any case. That is how he will be and also the main reason to explain why a large number of people in his social circle get more interested in every talk with him.
In addition, Aquarius man is often the best activist no matter whatever he does takes place indoors or outdoors. When deciding to be in love with such an intellectual and energetic man, do not ever have the thought that he will be the one belonging to you, but not anyone else even his close friends. Since your Aquarius would like to rationalize things rather than getting himself engaged in any emotional situation, there's no way for him to indulge you just to please you. Just let him proceed with his next move, and do not try to steal his freedom by having him deal with other sensitive and emotional issues.
In relationships, Aquarian proves himself as an excellently independent person. Besides, he's sometimes got a kind of detached view even in the most sensitive situations. Therefore, if you decide to love him, please understand his true self and let him stick to any mental connection that he feels the most comfortable with. This man hardly ever expresses his inner feelings or simply the weakest side in front of people, but it's just him who finally finds the best way to preserve his heart. However, when having an Aquarius male beside you, it's always necessary not to ignore him though he's himself not the sort of person appreciating any emotional obligation.
With the influence of Aquarius Man Characteristics, he can be a good lover and a good friend at the same time. What the most common thing about him is that he will never rush to do things both in work and romance. By saying this, it's completely reasonable to state that an Aquarius man will get started with a romantic bond by an honest friendship at first. When the right time has come, which means that he's likely to feel the sort of intellectual connection with you, the romantic bond between you two will come later. However, this star sign won't like the idea of being closely bonded with any kind of responsibility when in a relationship, so take that with you.
Patience is the most likely recommended thing for anyone who tries to get involved with an Aquarius man. If you truly love him, do not make things happen too fast for him to follow. A perfect relationship here means a high combination of two people who share the same mental stimulation and intellectual interests. What can we expect from this type of man? Let him bring the newest and most innovative ideas to the relationship that you may like. Take time to enjoy proceeding with the speed your man has just created for the love you two are both sharing.
How To Make An Aquarius Man Fall Deeply In Love
Let him see you as the initial and only friend that is always seen as the most part of an Aquarius man's lifetime.
Be more energetic about the life surrounding you, and raise your concern about living out if it's possible.
Do not try to force him, but give him some mental incentives so that he can live his life for greater good.
Be more rational, intelligent, and respectful about different things in life.
For further information regarding the topic "Aquarius Man In Love", please send questions to the textbox online for the quickest replies to be sent to you.
---
Terms: