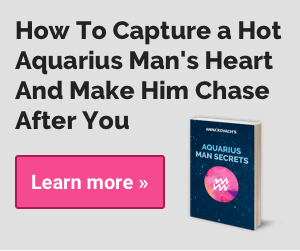 The truth is that each Zodiac sign will have different personality traits and compatibility. Understanding of our sign will help us get a glimpse of how our characteristics are and what Zodiac signs are compatible with us. If you desire to know the compatibility between Aquarius (January 21st and February 19th) and Cancer (June 22nd and July 22nd), don't miss the chance to read this article.
A brief look of the Aquarius-Cancer compatibility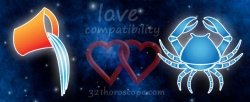 In general, Aquarius personality traits are patient, logical and enthusiastic while Cancer's are sensitive, kind and feminine. Sometimes, the sensitive Cancerian can find it difficult to control an Aquarian's stubbornness. People belonging to Cancer tend to find warmth and security from their Aquarians. However, their secretive nature can make these Aquarians unease and unpleasant. Furthermore, Cancerians have strong emotional bonds to their families. Therefore, you can be a lucky girl if your partner is a Cancer man.
According to Aquarius compatiblity chart, when both are in a relationship, they cannot form a great match. Here are some convincing examples of this. While a Cancerian likes to take the emotional approach to life, an Aquarian is apt to take an unconventional and offbeat one. In addition, Cancer tends to retreat into its hard shell whilst Aquarius does not hesitate to find any way to be the organizer and extrovert. In fact, people belonging to Aquarius prefer to find themselves among their friends, and social activities are some of their favorite hobbies. To make a good compatibility, it is important for both signs to know the positive ways to combine their own characteristics.
It is supposed that both an Aquarian and Cancerian are determined and ambitious. Once the goals are set, they will try their best to fulfill these ones. The Cancerians may be old-fashioned. Combined with routine and tradition, their morals will be more conservative than progressive. On the other hand, Aquarians have a tendency to be extremely modern and creative. They can make their Cancerians' lives full of enlightenment and pleasure. To get an in-depth understanding of each other, both signs have to find ways to harmonize their romance as well as accept their weaknesses.
What is the positive point of this love match? As soon as deciding to come together, they will be an indomitable force! It seems that no one and nothing can stop their strong decision.
How about the compatibility of an Aquarius man and a Cancer woman?
Unluckily, this relationship can not get the ideal match since an Aquarius man is totally different to a Cancer woman in their traits and behaviors. It is likely to have a constant urge for love and security on a Cancer woman's part. However, an Aquarian is hungry for freedom and comfortable. Therefore, their desires can make their love troublesome and painful. How to balance this romance? Truly, this relationship may be nurtured when a Cancer woman's emotion can be harmonized with an Aquarius man's intellectual thought.
How about the compatibility of an Aquarius woman and a Cancer man?
This compatibility may not be called the ideal relationship because a Cancer man is too emotional to express his praise and admiration of his realistic Aquarius woman. Although she is amiable and kind, she still gets annoyed by the hesitation of her man. One of the contradictory characteristics of an Aquarius woman is that she likes to live in isolation, but still has a lot of friends. To make this love work well, both signs have to balance their negative traits and learn the ways to take care of each other. Don't forget to express love together by some romantic actions such as kissing, hugging, holding hands, etc.
To know more details about this article "Aquarius Compatibility With Cancer", you can send us any kind of your questions in the box below.
---