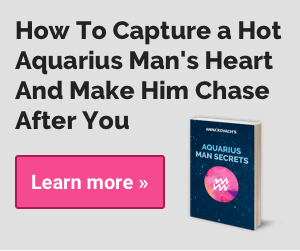 How can Horoscope help you in your life journey? It is said that the 12 Zodiac signs are the reliable and supportive guides for all individuals in the earthy life. Applying the Horoscope divination to any area of your life in order to get the most objective perspective and practical solution for the burning intricacies!
More and more people concern themselves with the growing interest in Horoscope. How about you, Aquarians? It is time to be acknowledged about your natures. Catch your most opportune times to find your life mate after knowing which Zodiac signs are right for you!
Aquarius Love Life With Its Compatible Zodiac Signs
Convincingly, according to Aquarius Compatibility Chart, an airy sign like Aquarius can get along well with the Fire signs (Aries, Leo, and Sagittarius) as well as two remaining Air signs (Gemini and Libra). To make love the healthy thriving, a love match needs romance, luck, and pleasure from the astrological movements under the light of Horoscope.
An Aquarian's love life may not be filled with the emotional commitment and sensitive hurt from the cradle to the grave. Believe it or not, a typical Water Bearer (symbol of Aquarius) man or woman prefers to be a close friend rather than a romantic partner during the courses of the life-long relationship.
They remain their personal traits and are not likely to change for anyone. Thus, they never lose themselves in love and any kind of relationship. Besides, it is worth pointing out that the Aquarians may rarely spend time on talking to the incompatible ones who they feel uncomfortable with.
As per Aquarius in Compatibility with Pisces, an excessively emotional sign like Pisces may find it quite awkward to have positive communication with the Aquarius since the Air sign will run away from the emotional experience as soon as possible.
In other cases, Aries and Aquarius are able to create an interesting conversation for hours since the two signs are all self-confident and enthusiastic. They are the great companions for each other in any adventurous journey.
In spite of the detached appearance, what an Aquarian craves most is a high degree of intimacy and compatibility with the ones that he or she can truly talk and share with. Luckily, Gemini, Libra, and Sagittarius are the ideal signs for mutual understanding and sharing. They may catch each other's interest with their curiosity, adaptation, generosity, cooperation, creativity, and sense of humor.
The inborn natures will never be eliminated. Thus, in the long-term relationship, such the strengths will be raised according to the life progress. Meet the ones on the same "wavelength" is what an Aquarian is thirsty for all days and nights!
How To Improve Love Compatibility With An Aquarian
When their star is on the rise, the Aquarians can take at ease to attract and seduce their partners. Supportively, Horoscope divination lets us know when the best and the worst months are. For example, they are not at your best during an extended period from July 22 to August 21, 2013 with the uncertainty and short temper.
The foreknowledge about the advantageous and disadvantageous times is the great source for improving the love compatibility between an Aquarius and its adaptable signs. As everyone has his bad day, be tolerated for your Aquarius when he or she is on the way to bad days!
Furthermore, it should be borne in mind that the Aquarians need intimacy, but they themselves are not good at showing their affection and innermost hopes. In fact, they prefer the saying "Actions speak louder than words". Hence, be active to set the mood and form the close bond with them in advance! In return, they will fill your life with the faithful love, excellent support, excitement, and thoughtful regard.
Do feel free to have all of your burning queries regarding the article "Aquarius Compatibility Signs – Find Your Life Mate" submitted in the available form.
---