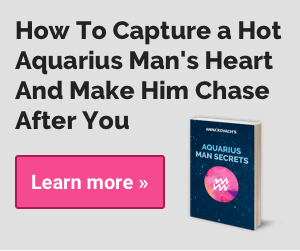 Aquarius is the most precarious zodiac sign. This is a sign that others should not reject or disrespect as it represents friendliness, honesty, and loyalty. They are the mysterious and unusual people who prefer to see life in different ways. A special trait that helps Aquariusto deal with all situations is the ingenuity. They may seem confident; however, those people might go through the entire life extremely uncertain of their identity.
Capricorn is considered as the most serious-minded of all the signs. However, people should not underestimate their sense of humor. Caps are well-known as they are hilarious. Also, saying the cleverest things at just the right moment is a significant characteristic. Surely, the Capricorn-born will be the strongest and the most sympathetic person that others can rely on.
When concerning the love compatibility of both Zodiac signs, people will realize it is a mysterious combination. They are different in a few ways, for example, the Aquarians always think outside the box but the Capricorns like to stay in the comfort zone. Both of them are a little bit withdrawn toward romance and expressing emotional love. However, those two signs will work well in a love relationship, as long as the agreement is set.
As the Air Sign, Aquarius has a free spirit in their mind and doesn't let anything hold them down. They're outgoing and have a tendency to do what they want. In contrast, Capricorns are more cautious, rational outlook on life. In every situation, they always require the specific results. Belongs to the Earth Sign, they do like to have an adventure but they prefer to play in a rule way. When those two go out together, Aquarius can help Capricorns come out of their shell, and tell them the new things, according to Aquarius Compatibility Chart. For the exchange, Caps will teach Aquarius the value of tradition. One sign is playful; and one sign is serious, but two signs together will form an unbreakable bond.
The conflicts might arise in that relationship as tenth sign might find the eleventh sign to be too serious or too uptight. Two of them are stubborn and don't want to hear other's explanation or advice. Both partners need to learn that they have a unique way of determining life's paths, and so have many things to share with and learn from another. If they understand and help each other for a common goal, it's much easier for maintaining the relationship.
If you want to get more details in the articles "Aquarius Compatibility Capricorn", don't hesitate and make a contact with us by giving all your comments in the available box.
---